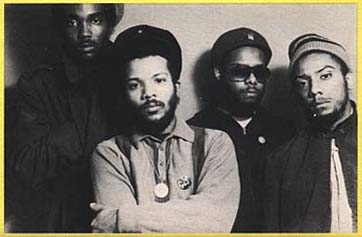 I've been listening to Bad Brains self-titled debut album lately. This is not their SST label contribution and I know that I promised SST label stuff, but what the hell. This album is from the ROIR label. I don't know enough about that label to comment any further.
Bad Brains are hardcore, and often fused reggae with their hardcore, or just regular old reggae. Bad brains are one of the best hardcore-punk groups ever. They are also black. Not your typical punks. They started playing jazz-fusion and are accomplished musicians. Why in the hell would they start playing the hard, loud, fast style hardcore that was all the rage with the white boys in the late 70's? Simple, they had aggression, they had anger, they had something to say, and they needed to say it loud.
So, what do a bunch of rastas sound like playing hardcore-punk? Well to put it short, ungodly awesome. HR, Joseph I, or the "throat" (as the band called him) was a yelling, yelping, and grunting (I like the grunts) dynamo. The rest of the band kicked as much ass as anyone ever did before and after them. They were masters of the hardcore riff, thanks to Dr. Know and his massive guitar work. Just listen to "Pay to Cum", "Big Take Over", "Supertouch/Shitfit", or "Banned in D.C." and you'll be converted.
I like "Attitude" and "Sailin' On" personally. On Attitude, HR sings about having a PMA (positive mental attitude), so these guys weren't about gloom and doom, but being effective and positive. My favorite track is "Right Brigade". All I can say about that track is holy shit on a ham sandwich! I just want to keep turning it up and up, 'till my ears start bleeding.
Bad Brains did include some pretty decent reggae on this album, but if you want their best hardcore/reggae or just plain reggae offerings, then get "I Against I" on the SST label. But this one, Bad Brains, is the essential hardcore album along with any Minor Threat, Black Flag, Misfits, or Germs album. It was first released only on cassette, but now has been re-issued on CD. The sound quality is not top notch, but this was the 1981-82 underground D.C. hardcore scene. So, this CD still has a underground demo feel to it that finds a way to explode through its technical limitations. If you really care about hardcore, or if you need a lesson (because your punk vocabulary is limited to Greenday), then get this album right now, Bad Brains.
Play it loudest!!!