Ian Curtis, frontman of the post punk electronic band, Joy Division, took his life on the 18th of May, 1980. I had just turned eight. I remember that month well. Aside from it being my first birthday in Utah, I had just made new friends. I thought I was all grown up because I could ride my sister's big ten-speed bike. I had no clue about Ian or his group, Joy Division. I had no idea that a man who killed himself, while I was discovering secrets in the shady, wooded foothills, would help me later in life discover secrets in the dark forest of my soul.
There are pics on the web of him hanging from an electrical cord in his kitchen. They are rather disturbing and I will not sink to that level. He had Iggy Pop's "The Idiot" on his record player and a cut out pic of a grey sky lying on the album cover. The pic was one of David Horvitz's.
The last song he performed live was "Digital". Just a few verses:
"Feel it closing in; the fear of whom I call; every time I call; I feel it closing in; day in, day out."
Who was Ian, besides an artist?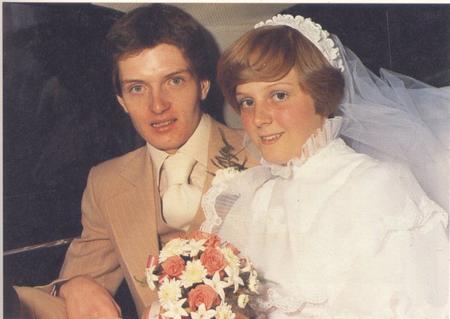 He was a husband to Deborah. While they started out happy, eventually Deborah wanted a divorce. She felt his recurring themes in his songs were solely about him and she could not bear to share that load. Ian always stated that his songs were more than just his feelings. He wrote those songs for the many alienated souls that he felt he was tapped into. I feel that the rejection he experienced through Deborah's misunderstanding was a heavy blow to Ian. While maybe not the sole reason for his suicide, it surely didn't help.
He was a father:
A little girl left behind: Natalie.
Now all grown up and bearing her father's likeness and ever the artist, herself.
I listen to "The Eternal":
Procession moves on, the shouting is over
Praise to the glory of loved ones now gone
Talking aloud as they sit round there tables
Scattering flowers washed down by the rain
Stood by the gate at the foot of the garden
Watching them pass like clouds in the sky
Try to cry out in the heat of the moment
Possessed by a fury that burns from inside
Cry like a child, though these years make me older
With children my time is so wastefully spent
A burden to keep, though their inner communion
Accept like a curse an unlucky deal
Played by the gate at the foot of the garden
My view stretches out from the fence to the wall
No words could explain, no actions determine
Just watching the trees and the leaves as they fall.